All hail the new royal couple of the Imperial Court of New York! Known for bringing regal flair to the hosting of major charity events in the queer community for decades, the Court is a long-celebrated institution. And while these times may be bleak and uncertain, we do have a bright new reign to look forward to from this real life couple on and off the throne: Emperor XXIX Graham D'Craquer (aka Graham Mills Nelan) and Empress XXXIV Madelyn Keyth (aka Keyth Nelan)!
---
Thotyssey: Greetings, your Royal Highnesses! Congratulations on your recent crownings, and a successful Investitures ceremony where members of The Imperial Court of New York received elevated titles under your declaration. This year's ceremony was digital… what was that experience like?
Emperor Graham D'Craquer: In some ways it was the same [as prior live ceremonies], in others quite different. The same part was the good part. We got to elevate (give our Court titles by rank) several well-deserving individuals for their wonderful service to the Court. We also got to name the members of our Imperial family (brothers, sisters, sons, daughters, etc.). Since we're married, we decided when we stepped up that we would name our families to the Reign rather than individually. The different part was that we usually have an awesome brunch at a restaurant as part of Investitures. So, we probably had the quickest Investitures in the history of the Court! 
Empress Madelyn Keyth: The downside to doing the Investitures digitally was not being with the people that were being elevated and recognized. We named members as our Family–many of these people are just like [real] family, and we miss being able to see their faces. Also, some members and family are not able to get online or aren't tech savvy; some don't have Facebook accounts or Smartphones. That being said, some members aren't aware of the fact that they received titles or elevation yet!
"Night of a Thousand Gowns" was cancelled as a result of the social distancing policy. That's always been a huge, glamorous night for the Court, and regularly a very successful fundraiser. Was it really devastating to miss out on that this year?
EGD: It was sad to have to cancel "Night of a Thousand Gowns" this year. It was the right thing to do, of course. But it wasn't just we who were disappointed. This year's Ball was really to highlight and thank our Dowager Empress and Emperor. So they missed out, too. But, we'll make up for it next year.
EMK: So much planning and hard work goes into each "Night of a Thousand Gowns"– months of planning by our producers, committee chairs and the Board. We were looking forward to celebrating the work and fundraising done by Empress Chuleta Devine and Emperor Antonio T. Ventura. We had become quite the foursome for many months, and were excited to share the evening with them–as well as our crowning, which would have been the culmination of the night. And of course, we all felt awful because the evenings' beneficiaries lost out that night, too.
Tell us a bit about how an Imperial Court member obtains the highest rankings that you two now hold.
EMK: Becoming a Monarch is usually a process that takes a few years. To begin with, you have to be a member in good standing for at least three years. Most people will agree that you should try to serve on the Board of Directors for a year to get to know how the business of the Court is conducted.
Prior to submitting an application to run for Monarch, you are expected to produce some kind of fundraising event, travel to other Realms / Coronations, and articulate what it is that we do. Most members who are serious about representing the ICNY as a Monarch will plan a year or two out. All our traveling and finery is out of pocket, so most will save before they run.
EGD: The Monarch are elected each year by the members in-good standing of the Imperial Court of NY. Each year, applications are sent to our College of Monarchs (comprised of all the past Monarch in the Imperial Court of NY). They decide based on a set of criteria and an in-person interview who may then stand for election. The elections are held at the September General Membership meeting. So we were elected last September.
Once elected, the future Monarch spend approximately six months as Imperial Crown Prince / Princess Royal / Royale. Then, under normal circumstances, they step up as Emperor and Empress at "Night of a Thousand Gowns."
And what are official duties of the Empress and Emperor?
EGD: To serve as the most prominent forward-facing members of the ICNY, create as much visibility for the Court as we can, help raise money through a variety of events, and serve as members of the ICNY Board of Directors.
So where are you two from, and what have your careers been?
EMK: I am a native New Yorker, Bronx born. I traveled a lot–military family–but always wound up back on Long Island. I was a bartender for over 20 years on Long Island, in New York City, San Diego and Fire Island. I started performing as Madelyn Keyth in 1978, and over the years I did fundraising and held the titles of Miss Gay San Diego, Miss Golden State Gay Road Association… to name a couple. In 1985, with the help of some of my friends, Dorian Corey, Chaka Savalas and Nikki Star–all icons in the gay community–I produced one of the first AIDS benefits in a Long Island Gay bar.
EGD: I grew up in one of the southern suburbs of Pittsburgh, PA and moved to the NYC area in the early 80s. I'm retired (early!), and worked in organized medicine as an administrator for my career.
How and when did you two meet?
EGD: Through the Court! We joined at about the same time, grew to know each other and became each others' best friend.
So what initially drew you to the Court?
EGD: When I retired, I looked around for a volunteer opportunity in the LGBTQ+ community that was working in the area and would also be a lot of fun. The ICNY fit the bill perfectly. As a 501 (c) 3 organization, it felt quite natural, since I spent my career in the same kind charitable organization and had the ready-made skills.
EMK: I first joined the Court in San Diego when I was living there. The friends I made in that court are still like family to me now. When I moved back to New York and discovered that there was a chapter here, it was a no-brainer.
What are fun, random trivia facts about you two?
EGD: I love cars and driving. I no sooner get a new car, and then begin thinking about what the next one will be. I'm no mechanic, but I can describe fuel injection, various suspensions, and know the difference between push-rod and overhead cam engines. I've had several convertibles over time, but am getting a bit too creaky to drive one on a regular basis. I never participated in team sports, but played tennis, racket ball, down-hill and water skied, and was a pretty good golfer.
EMK: I have a background in art; I'm constantly drawing. I work as a floral designer, and specialize in wedding work. And I love to cook… everything. I am of Filipino, Puerto Rican, African, Indian and European decent.
Many queer folks wanna know: what's the secret to a long, happy relationship?
EGD: We've been together for six years now, and married for a little over 1.5 years. As I said, we're best friends–that certainly is a big help. But I think the fact that while we approach life very differently, our core values are exactly the same is key. It keeps life interesting and fun.
EMK: Make sure you are truly friends. When you're in it for the long haul, you need to make sure you want to spend every day with that person because you enjoy each other, and what they bring to the relationship.
What are some things coming up from the Court, digitally or otherwise?
EMK: Until we can gather in public spaces and do the types of fundraising we are known for, we have been working on digital shows featuring incredible singers and drag performers from all over the country and within our membership. We just had a very successful tee-shirt campaign. And we are working on an online auction, a Tupperware party, and custom, handmade gift ideas to raise money for our beneficiaries.
And this just announced: a digital benefit for Trinity Place Shelter, Sylvia's Place Shelter and Thursday's Child on Friday, June, 26th (7:30pm)! That'll be on Facebook, and will feature appearances by you two as well as several other Court members.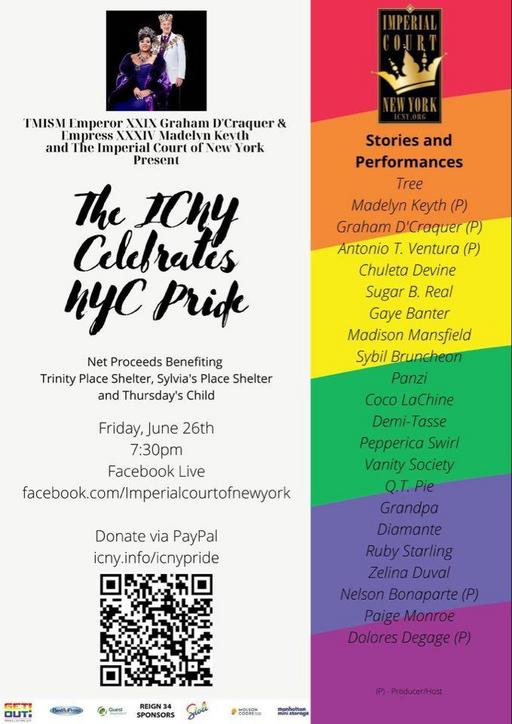 So, we're in the middle of some very volatile times with the COVID quarantine, the Black Lives Matter movement and recent attempts by the GOP to set back the civil rights of queer people. Do you think the Court is prepared to adapt to these needs, and this moment?
EGD: Absolutely. We have a diverse membership, from which we can continually learn and grow.
EMK: We will adapt, support, speak out and stay proud.
To conclude, do you have any words of encouragement or hopefulness during these uncertain times?
EGD: If I've learned anything in my 68 years, it's that "this too shall pass." We struggle with many things. But if we listen and learn from our struggles, they make us better individuals–both to ourselves and to others. I'm reminded of the Monty Python song, "Always Look on the Bright Side of Life." It's silly and fun, but it shows the value of living an optimistic, hopeful life. I live in hope.
EMK: We are nothing if not resilient. We will figure this out, and live and love again. I'm hoping people will stay smart, pay attention to what has to be done. Hopefully, we will come out of this stronger and smarter–and most of all, more appreciative of being able to hug the ones you care about. You are loved…
Thank you, Your Excellencies!
---
Check Thotyssey's calendar for Emperor Graham D'Craquer & Empress Madelyn Keyth's upcoming appearances. Follow the Emperor on his Facebook and the Empress on her Facebook, and visit the imperial Court of New York website.