*NSFW NSFW NSFW*
Thotyssey presents a bi-monthly column by LeNair Xavier, a writer/poet who has worked in many levels of the sex industry, and has a lot to say about the social politics of sex, porn and sexual etiquette.
---
LGBTQ Pride for many is highly politicized. Especially this year with it being the 50tj anniversary of the Stonewall Riots. Fighting for the right for us to be our LGBTQ selves without consequence from the law is a definite must. Unfortunately, what some forget is that includes sexual liberation within Gay Pride. To the point that they try shaming us when we use sex as a means to celebrate that sexual liberation. Because for them, the fight is not over, which is indeed true. However, that doesn't mean we cannot celebrate how far we have come…. by cumming. All the while staying aware of how much further we have to go.
Hence why I have no shame about the great sexual encounters I had over Gay Pride weekend.
Have you ever had a moment of seeing a cute guy in passing, you think he's hot, and see that he might have looked at you for a split second, but even in that split second, he thought you were hot as well?
Well that's how this tale of my Pride Saturday came about. There were a lot of cute guys there that night, but I saw him as he was walking in, and I thought he might have seen me. Rather than rack my brain over a complete stranger and cause myself unnecessary anxiety, I decided to proceed with my night.
Later on, with many others, I was standing on the stage downstairs. I looked down to see the many guys walking pass, and there was the guy I saw earlier. This time, there was no doubt he was looking at me, so I right back at him. The even harder red lighting downstairs made it even  harder to pick-up from where I was before in pinpointing his hair color. I was guessing a possible ginger or dark blond. Besides that, a more important question was his availability. Because there was this guy behind him trying to wrap his arms around his waist. A guy who sometime earlier was trying to touch me as I walked pass, but turned him down because of his aggressive and desperate approach. Had this guy been with my prospective playmate, my standards would have made me have to deny my prospective playmate because I'm not playing with a couple when I'm only into one of them. Especially when one has no social skills.
As it turned out, my prospective playmate wasn't with him, and started to make his not being with the other guy known. Why he didn't do it sooner is something I'm seeing a lot of and may write a piece investigating it at some point. But anyway, with our eyes locked on each other, he reached out and stroked my leg. The more he did it and I responded by stroking his hand, the guy behind him finally gave up and moved on. That was when we saw an opening for him to come up on the stage with me.
We immediately got handsy with each other. His hand on my crotch. Mine on his. Feeling his cock grow through his pants. We made out in a way where if we ever got to fuck, we couldn't tell who was going to be a top and who was going to be a bottom. That changed when we stared reaching down each other's pants to touch each other's asses. For while he had a nice round, cushy, slightly fuzzy butt that I could see myself pounding into oblivion, his reaction to touching my ass was a lot more vocal, and he groped it like he was squeezing for juice to quench a thirst.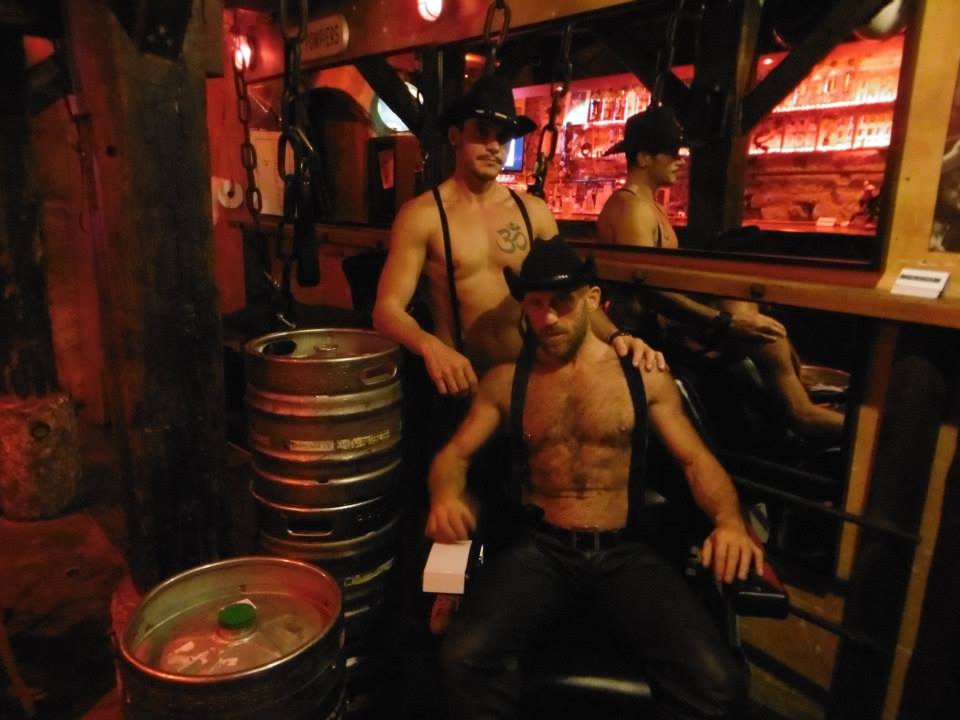 We undid each other's pants and went down on each other. He went down on my cock. He got me hard, but my discomfort of those around us living vicariously through us didn't allow it to last. Then I went down on him. Making him rock hard so he would want to go from fucking my face to fucking my ass. And it was mission accomplished.
For once I stood up, he put me in front of him with my back to him, then started taking down my pants. He massaged my hole and felt how tight it was. He was ready to use a spit lube to fuck me, and eager as I was to have him in me, it probably would have worked. But just to be sure, I went in my pouch where I keep my lube and put some on him. Once he felt that lube on his cock, he let out a very excited and anticipatory "Oh, fuck yeah!"
We were at this point right in the middle of the stage. Surrounded by a lot of guys, who would have loved to see a show. But my public sex does not validate my sexuality. So my goal became to get somewhere on that stage where we both could be more comfortable. And we found a spot a little further back.
He entered me and started fucking me slow. I wanted to beg him to fuck me harder, but I felt he was thrusting the way that he needed to. Because not to toot my own horn, but I do seem to have a hole that has made a good number of guys who pound me hard from the jump end up coming fast. And I commended this guy on knowing what he needed to make it last.
Although this lasted for awhile, it wasn't without interruptions from guys living vicariously through us. The interruptions got to the point that he abruptly stopped fucking me. I asked him if he had come, and he said that he didn't. He then stood there looking for a way off the stage pass the crowd. Yet his body was saying 2 different things.
The direction he was facing said that he had to go, but his massaging of my hand and constantly leaning back to kiss me all the while said he didn't really want to go. Was it possibly because he wanted more?… That question was quickly answered when he then turned back to face me and said, "I want to cum in your ass."
He got no argument from me. So we went back to where we were before, and he fucked me some more. He pumped away, then I heard him groan. His groans got louder and louder. I was wondering if he was cumming, or was my ass just that good to him. I realized it was the former when I felt his cock throb in me. That made me reach back to squeeze his ass, kiss him and say, "Ah, Baby! I felt that!"
After his cock slipped out of me, I dropped to my knees to kiss his dick and licked the last bit of his cum off. Knowing the rest of his cum was deep inside my ass. We made out a little bit more before he found a way off the stage. I soon exited the stage as well, but not to catch up with him.
I was headed for the bar. Because that good cock made me parched.
---
LeNair Xavier can be found frequently at the Cock, and at various other exhibitionist-friendly venues. He can be followed on Facebook, Tumblr, Twitter and Instagram. He guest blogs occasionally for Kiroo.com.